How to Trim a Snapchat Video Length for Free 2022
How to trim a Snapchat video to under 10 seconds? Snapchat is a multimedia instant messaging app for sharing videos and photos. It is one of the most popular social media platforms in America. However, the clips you shared on Snap usually can't be longer than 10 seconds, or you need to shorten the video length. This article shows how to cut a Snap video in two free and efficient ways. The first one is a free video editor. The second way is to shorten a video on Snapchat itself. Read on to learn more!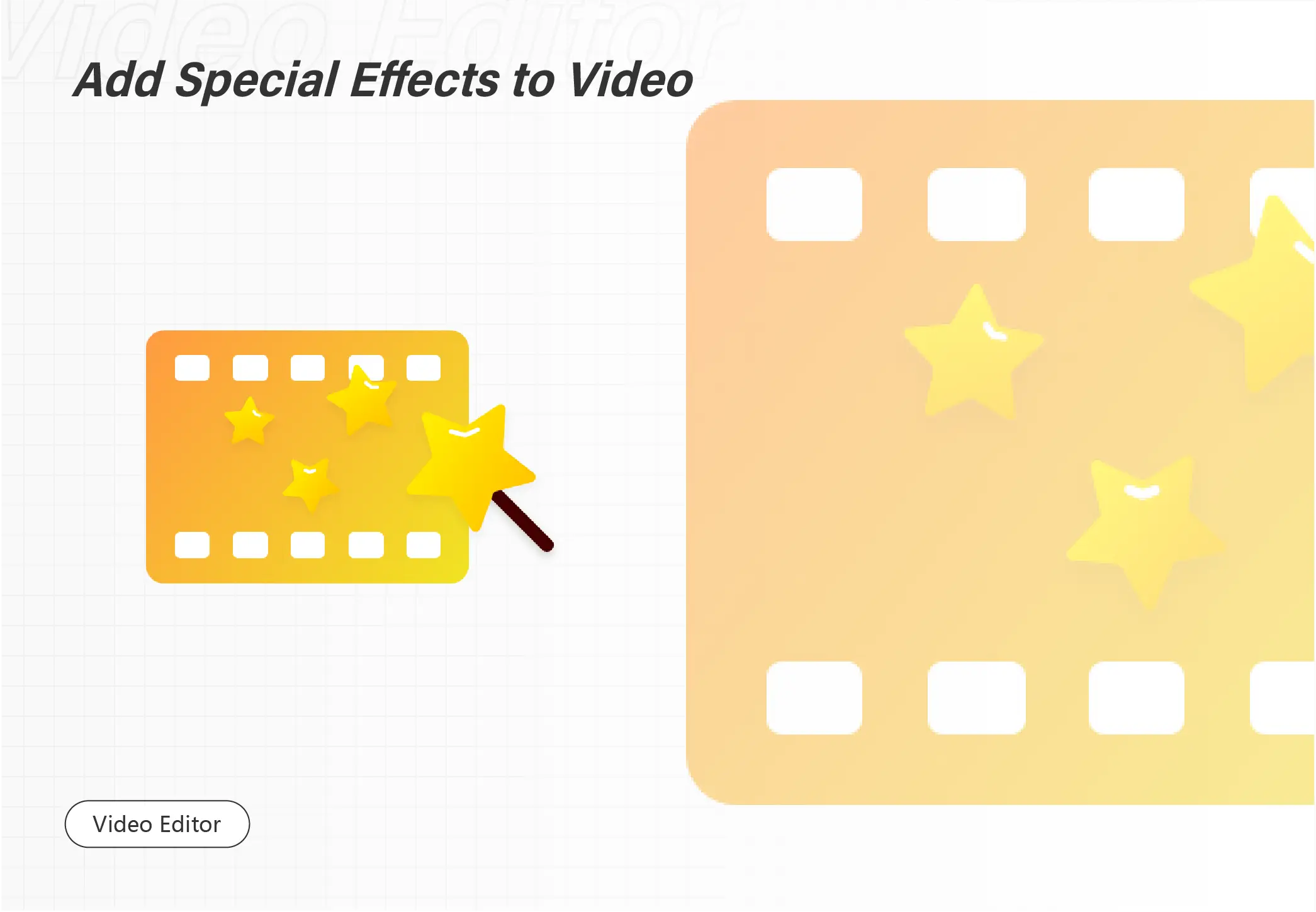 How to Trim a Snapchat Video Length for Free 2022
Snapchat is an instant messaging app for sharing photos, text, short videos, and stories with friends. It has become popular among young people for content sharing and digital dating due to its end-to-end encryption and a short accessible time of messaging.
However, how to trim a Snapchat video? In fact, a single Snapchat video will last for a maximum of 60 seconds long, dividing your video into a row of 10-second clips. I guess many of you have encountered such problems that a Snapchat video is too long for watching or feel it is difficult to make a fine video on Snapchat. In this case, it is better to cut the Snapchat video. Well, this article explains two ways to shorten Snapchat video length. Read on to learn more!
How to Trim a Snapchat Video with WorkinTool VidClipper?
If you can't trim Snapchat videos on the platform, pick the best video editing software that provides more comprehensive and wonderful features to edit them.
WorkinTool VidCliiper is an outstanding video editor for editing Snapchat videos. Why do I say so? Because VidClipper is equipped with versatile features based on completely free pricing. Compared with other video editing software, it doesn't charge a penny for its huge stock of content like filters, stickers, animations, transitions, text styles, overlays, and sound effects.
It is a piece of cake to learn how to trim Snap videos using WorkinTool VidClipper. Other than that, more features like screen recording, video converting, text to speech converting, voice extracting, video compressing and more are waiting for you to explore.
In addition, it is not as sophisticated as other professional video editors like PR and DaVinci. On the contrary, it is easy to operate for beginners. A straightforward and clean interface can help you use it without a steep learning curve, suitable for both video editing novices and experienced editors.
How to trim a Snapchat video with VidClipper
1. Upload Snap videos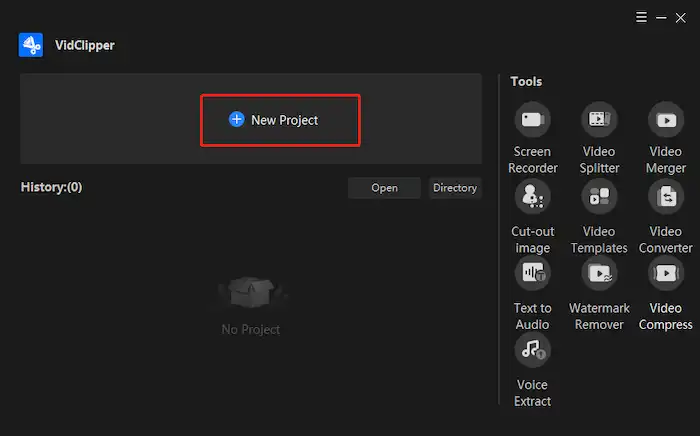 Visit WorkinTool official website to free download WorkinTool VidClipper and open it. Then create a new project by clicking on the blue + button. Drag or click to import the Snap video files you want to shorten.
2. Trim Snapchat video length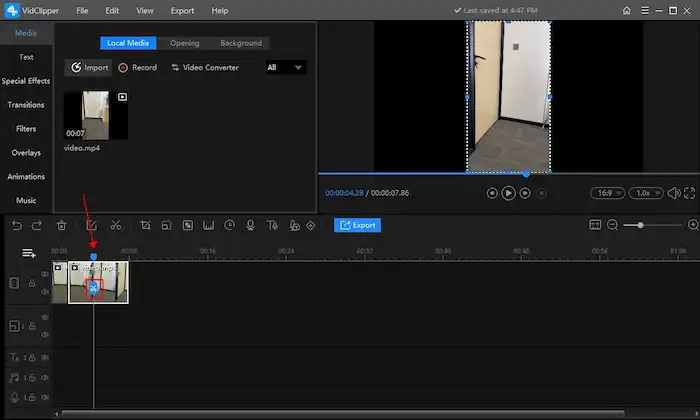 Select the video clips you want to add to the final work and drag them to the timeline. Then move the slider to the place you want to cut, and press the scissor icon to cut it. Cut it once to split the video. Move the slider and cut again to get another new video clip separated from the original one. Then you can delete the unwanted parts.
3. Edit Snapchat video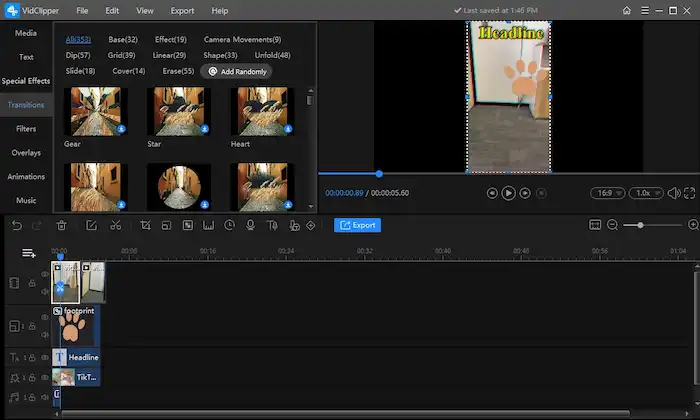 After trimming a Snapchat video, you can add text, special effects, transitions, filters, overlays, animations, and music to it if desired. There is a rich native content library for you to choose from. And it is easy to figure out how to crop a Snap video in the middle toolbar.
4. Export the trimmed video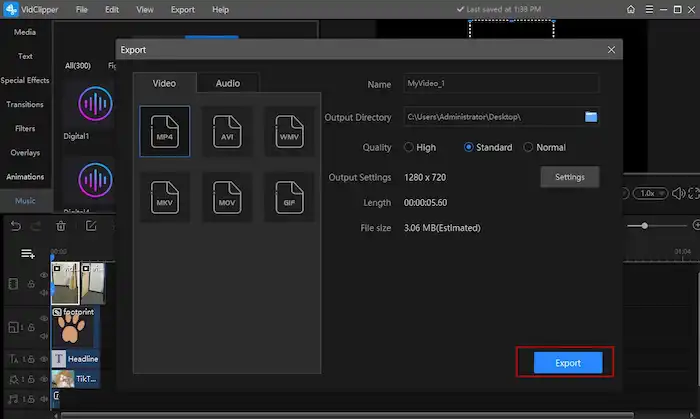 Click on the blue Export button to save the edited video to your selected directory. When exporting, you can adjust video quality by resolution, bitrate, and frame rate. What's more, the export video format covers MP4, AVI, WMV, MKV, MOV, and GIF. You can choose whatever you like.
WorkinTool VidClipper Key features
Other than the multiple features we mentioned before, the best Snap video applications are also based on price and users' experience. WorkinTool VidClipper also deserves a try if you evaluate it from the following two perspectives:
Utterly free
It won't charge a penny to trim a Snapchat video on VidClipper. You can trim, crop, and edit Snapchat videos completely for free. Nearly all the paid advanced features in other Snapchat video editors can be used in VidClipper for free.
Easy to use
You don't need to strive to learn how to trim a Snapchat video in VidClipper. It is designed to meet the needs of both beginners and professionals. The interface is concise and clean. Every icon represents a different feature, without hiding the advanced features in the menu.
How to Trim a Video on Snapchat
If you don't want to shorten a Snapchat video on the Windows end, it is also feasible to trim a Snapchat video to under 10 seconds without a third-party tool, but relatively less convenient to use the advanced features.
Step-by-step guide on how to cut a video on Snapchat
Choose a video from your album or record a Snapchat video.
Tap on the lower left video thumbnail and move the side handles to adjust the video length.
Press the blue √ button to save the changes and share the video with your friends or save it to Memories.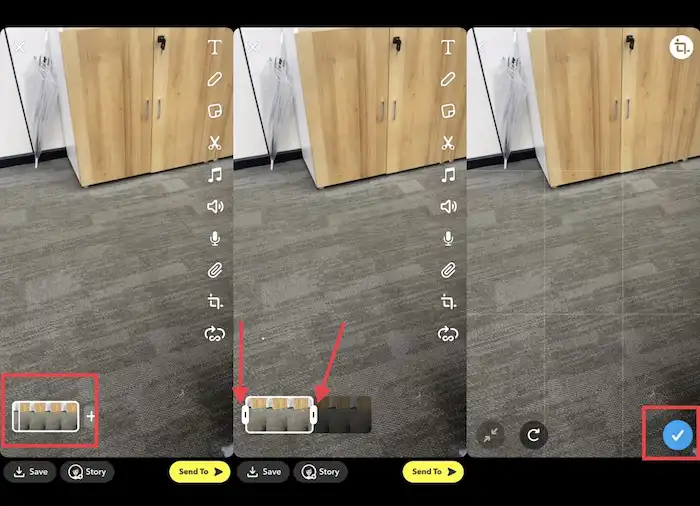 FAQs on How to Shorten a Snapchat Video
How to trim a video on Snapchat after saving it?
Whether you want to know how to trim a Snapchat video from Memories or from your local albums after saving it, you just need to open Memories and choose a video from the Snaps, Stories, Camera Roll, or My Eyes Only section, then repeat the operation steps above.
How to crop a video on Snapchat?
After recording a Snap, tap on the lower right crop icon, so you can magnify the video by swiping the screen with your fingers and rotate the video clockwise. After cropping a video, press the blue √ button to save the changes.
How to undo trimming Snapchat videos?
You can't undo trim on the saved Snaps. However, if you don't save the changes, go to the editing interface, tap on the clip you've trimmed, then move the handles back to the original location.
How to edit Snapchat videos longer than 10 seconds?
Snapchat usually only allows you to record a 10-second video. However, you can also record a row of 10-second video clips by pressing the + button and merge them into one mounting to 60 seconds long. Then you can edit it before sharing it with others.
Conclusion
We have shared two free ways on how to trim a Snapchat video. Other questions such as how to crop a Snapchat video, how to edit a Snap video, etc. are also answered. All problems can be solved with WorkinTool VidClipper. If you are interested in it, just give it a try, it will not let you down!
Products Reviews:
TrustScore
4
|
323
reviews