How to Make a Time Lapse Video on PC and iPhone | 4 Ways
Eager to know how to make a time lapse video to record the dynamic movement of sunrise and sunset, floating-by clouds, moving stars in the sky, hustle and bustle of busy streets, and opening of flowerbuds? You've come to the right place! This article shares how to do a time lapse video using different devices including Windows PC (WorkinTool VidClipper), Mac (iMovie), Mac (online) and iPhone Cameras (brief introduction). All solutions are free. However, WorkinTool VidClipper is a powerful and useful tool worth your particular attention. Head further to learn how to create artistic timelapse videos!
How to Make a Time Lapse Video on Windows, Mac, Online and iPhone
Suppose you want to record dazzling sunrise and sunsets, floating-by clouds in the sky, the opening of a flower bud, or the hustle and bustle of the crowd and busy street. The best way is to make time-lapse videos. By making a time-lapse, we can compress the footage of minutes, hours, or even days and years into a short video that only needs to be playback in a few seconds. Time-lapse filming sounds cool. But do you know how to make a time lapse video? No worries! This article will explain what is a time lapse video and how to shoot and edit it. Head further to learn more!
---
Words before
What is a time lapse video? A time-lapse video, also known as time-lapse photography, is a filming technique that speeds up time. The theory is to stretch the frames rate out when shooting a video or stitch photos together to show the sped-up passage of time in a short video. Many photographers make time-lapse videos to capture the dynamic movement of the sun, moon, clouds, sea waves, busy streets, etc. Everything will be accelerated in a time-lapse video.
---
How to Make a Time Lapse Video on Windows 10
Suppose you've already shot a video but want to accelerate it so you can see the dynamic nature of things in a sped-up real-time video. In that case, you can achieve that effect easily using a timelapse video app like WorkinTool VidClipper. It is a free and professional video editor that supports creating time-lapse videos from photos and video files. You can skip to the next chapter if you're searching for how to take time-lapse videos on phones or cameras. 
💡Key Strengths of WorkinTool VidClipper
⭐100% free without signup
⭐No output watermark
⭐Multiple speed choices 
⭐Easy speed-up process
⭐Additional powerful editing features
⭐Various output formats
⭐Custom output settings
⭐High-quality guarantee
📕How to make a time lapse video from videos using WorkinTool VidClipper?
💡Download WorkinTool VidClipper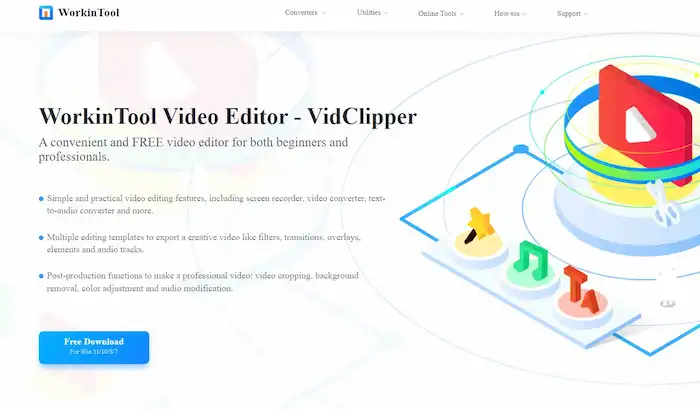 You can download this video editing software without a subscription fee. Rest assured, this software has no in-app purchases or advanced paid plans currently.
💡Create a new project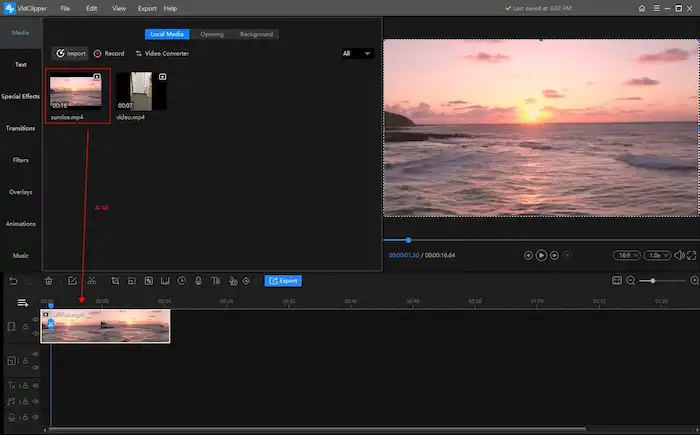 Click New Project to get into the editing panel. Then, import a video to this software and it to the timeline. If you uploaded multiple video clips, drag them all to the timeline and stitch them together in sequence.
💡Edit the materials you uploaded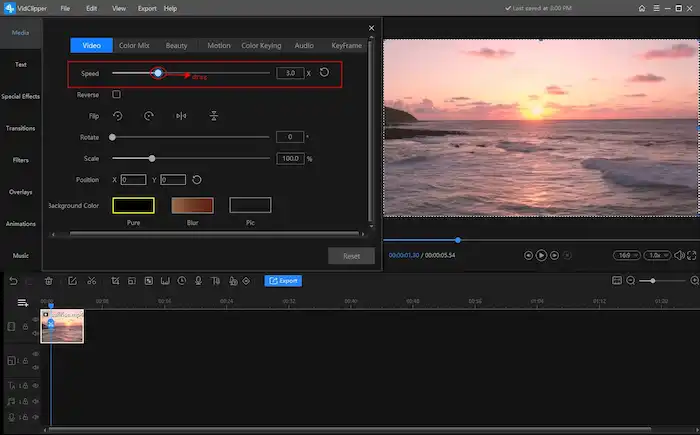 After adding footage to the timeline, click on the video you add. Then, a basic editing panel will pop up, enabling you to speed up, reverse, flip, rotate, scale, and move the video. In making a timelapse video, you need to drag the Speed slider to speed up the video. Then you can play your video faster than at a normal speed. 
For video optimization, you can add various background music, transitions, special effects, and animations, put a filter on a video, add text to a video and more. Try to improve the mood and quality with the vast content stock built in this video editor before exporting your video.
💡Export the accelerated video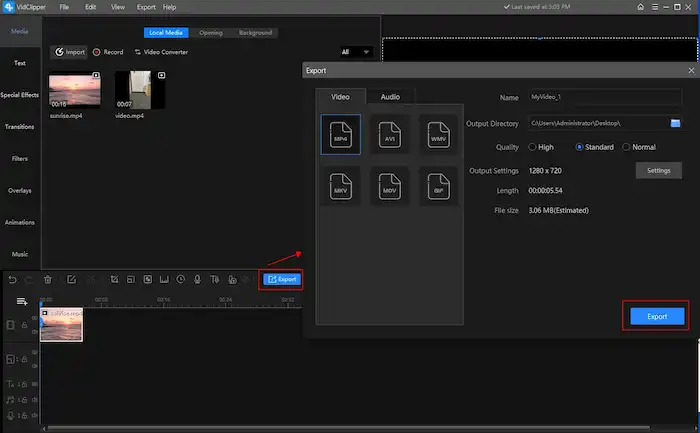 Finally, find the blue Export button to save the edited video in MP4, AVI, WMV, MKV, MOV, or GIF format. You can set the video quality to a normal, standard, or high level in terms of resolution rate, bit rate, and frame rate. Then you can share the time-lapse video to TikTok, Instagram, and YouTube as desired.
🧐Bonus Tips: How to make a time lapse video from photos using VidClipper?
Repeat the steps above to drag a range of photos to the timeline and stitch them together in a time sequence.

Then manually drag the side edges of each image to shorten its playing time. Or you can speed up the playing time to four times with the speed adjustment button in the middle right corner.
(If the playing speed is not fast enough, you can export it as a video file first and then import it again to speed it up in video format, which is more convenient than dragging the picture edges manually.)
📢PS: You probably know how to do a timelapse video using VidClipper now. Apart from that, this all-in-one software combines screen recording, video editing, and video converting together while making it lightweight. Check the table below to try more features or learn more at the website. 
✨The Verdict
💖Pick It
💔Decline It

Completely free without signup
User-friendly interface
Multiple speed choices
Simple accelerating process
Custom output formats and settings
Outcomes without losing quality
---
How to Create a Time Lapse Video on Mac
If you are using a PC powered by macOS, the quickest and easiest way is to turn to its built-in app–iMovie for help. Then you can save the time-consuming process of finding, downloading and installing an additional tool.
iMovie is a useful video editor pre-installled on Mac. With its help, you can easily edit your clip as you like. If you intend to create a time lapse video in iMovie, this is what you should do.
📕How to Export a Time Lapse Video via iMovie?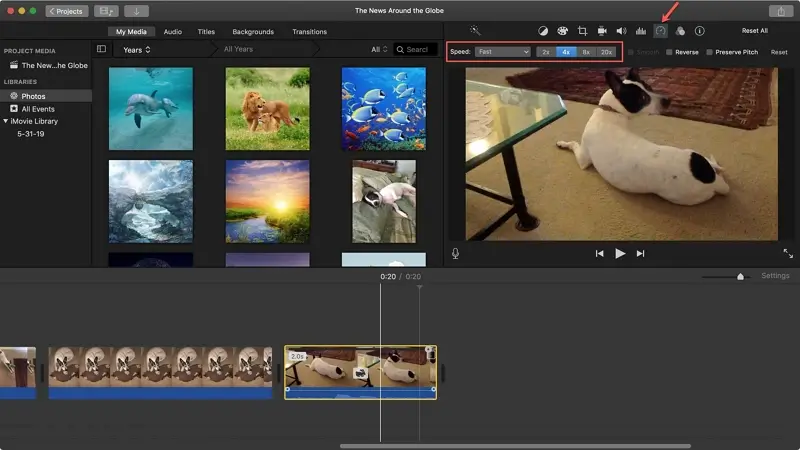 Create a new project on iMovie to import your video and then drag it to the timeline.
Find the speed control icon and then adjust the percentages to a proper level in order to get a satisfactory speed-up video.
T

he video is successfully accelerated when you

will see a little rabbit icon on the timeline.
Export your video.
✨The Verdict
💖Pick It
💔Decline It

A pre-installed program
Simple and clear interface
Easy speed-up process
High-quality output
---
How to Export a Time Lapse Video Online
A free online video editor is quite convenient since it works on any platform with internet access. If this sort of tool is what you are looking for, please take a look at FlexClip.
FlexClip is one of the widely-recognized free video solution providers online. It boasts a range of practical tools, like video cropper, merger, compressor and so on. However, as most online video editors do, When you plan to present a time lapse video, you can rely on its editing console to complete this task. Here comes the specific tutorial.
📕How to Make a Time Lapse Video Through FlexClip?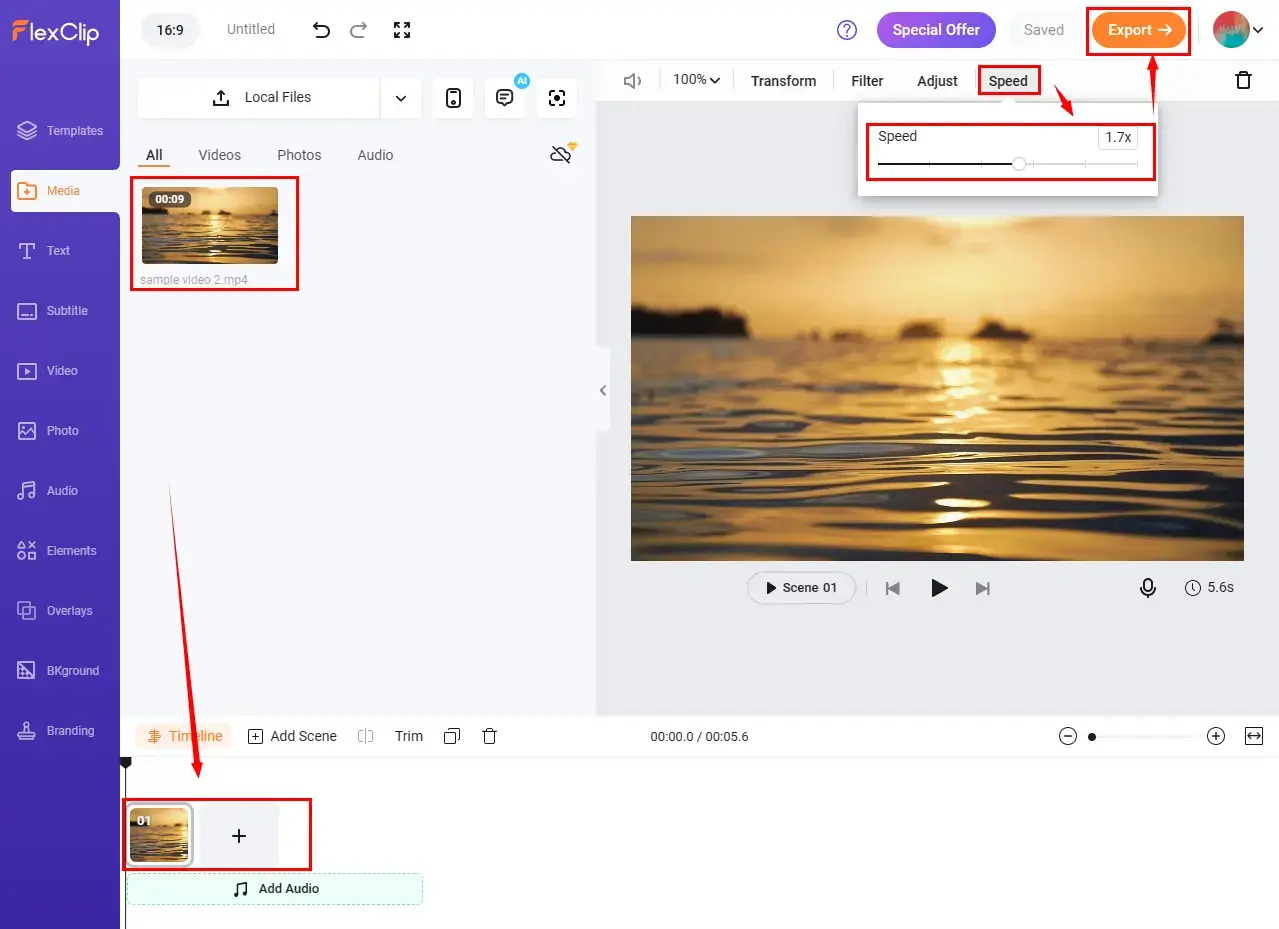 Open FlexClip's video editor (sign-in may be required).
Click Browse in the new window to upload a video.
Drag the imported clip to the timeline, find Speed at the top and then choose the speed you want.
Click Export to get your accelerated video.
✨The Verdict
💖Pick It
💔Decline It

A generally free tool
Modern and clear interface
Easy to use
No output watermark
Compatible with all platforms with internet access

Internet access required
480p video quality only
Maximum 12 storage numbers
10 minutes of videos/month
---
How to Make a Time Lapse Video on iPhone
Nowadays, time-lapse photography isn't just exclusive to cameras, including DSLRs. Most smartphones now have a separate time-lapse feature, and it's straightforward to operate. Take iPhone as an example. You can take a timelapse using the built-in Camera without downloading a third-party timelapse video recorder. But you must prepare a tripod first because your hands will get shaky for handholding a camera for a long time.
📕Check out how to make a time lapse video on iPhone.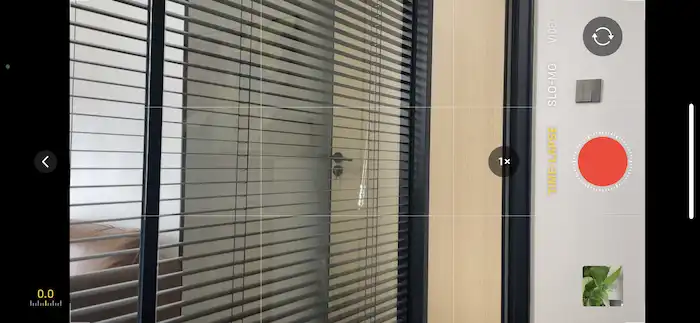 Steady your iPhone with an accessory like a tripod.

Find the

Camera

app on your iPhone and swipe to TIME-LAPSE mode.
Tap on the

Start Recording

button to perform a screen recording. (

Before recording, you can manually adjust the exposure value to avoid overexposure or underexposure when the light may change significantly, especially when recording sunrise and sunset

.)

After the recording is over, click the record button to save the recorded video to Photos.
Similar to cameras and DSLRs, you can also navigate to the built-in timelapse feature to do a timelapse video. Just make sure you keep your phone or camera in a stable state during the filming process. 
---
Conclusion
Here comes the end of this post. We summarized several methods of creating time-lapse videos on different platforms. Whether to create a time-lapse video from photos and videos on Windows / Mac or take a time-lapse video on iPhone and cameras, you can find helpful information in this article. Do you know how to make a time lapse video now? If you do, try to capture and create your time-lapse videos!